Loa JBL Voyager
Loa JBL Voyager

Home | JBL | Model: JBL VoyagerCombination portable speaker and subwoofer docking system

Complete 2.1 system with dual drivers and hard-hitting subwoofer

Detachable portable speaker with built-in Bluetooth ® streaming and 5 hour battery life

Equipped with advanced SoundClear® echo/ noise cancellation technology

Mã sản phẩm:

JBL Voyager

Bảo hành:

1 năm

Giá:

3.800.000 vnđ
Thông số kỹ thuật
Powerfulsound is meant to carry
There's nothing better than being utterly original: introducing the JBL® Voyager, the only wireless home audio system that incorporates a detachable wireless speaker. With Voyager, you get both power and portability. For starters, the main dock's dual drivers and subwoofer bring you all the sonic muscle-power of a full-range JBL home audio system, complete with aux-in input and USB ports for charging your smartphones and tablets. But that's just half the fun: you can easily undock the portable Bluetooth® speaker out of the main system and roam throughout your home or office, taking it anywhere you like.
With the portable speakers' custom drivers, its 5 hours of uninterrupted playtime, and its speakerphone system equipped with SoundClear® echo cancellation technology, you have on your hands – and in your hands – a groundbreaking device from JBL.
Nhà sản xuất:
JBL – United States
Style:
Wireless home audio system with portable Bluetooth® speaker
Communication:
Bluetooth, 3.5mm Stereo Input, USB Input
Special Features:
built-in microphone with Noise cancelling Technology Soundclear
Transducers:
2.1 system with dual driver 45mm and woofer 77mm
Amplifier Power:
2×7.5Watts(portable unit) + 1x15Watts (Subwoofer)
Frequency response:
20Hz – 20kHz
Signal-to-Noise Ratio:
80 dB
Battery Type:
Lithium polymer(7.4V 1000mAh)
Battery Lifetime & Charger Time:
Battery Lifetime: 5 hours; Battery charge time: 2.5 hours
Dimensions:
ø 210 x 127 mm
Color:
White
Weight:
1,14 kg (portable speaker : 0,42)
In the box:

1 JBL Voyager (includes a detachable portable speaker)
1 JBL Adapter
1 x Quick-start Guide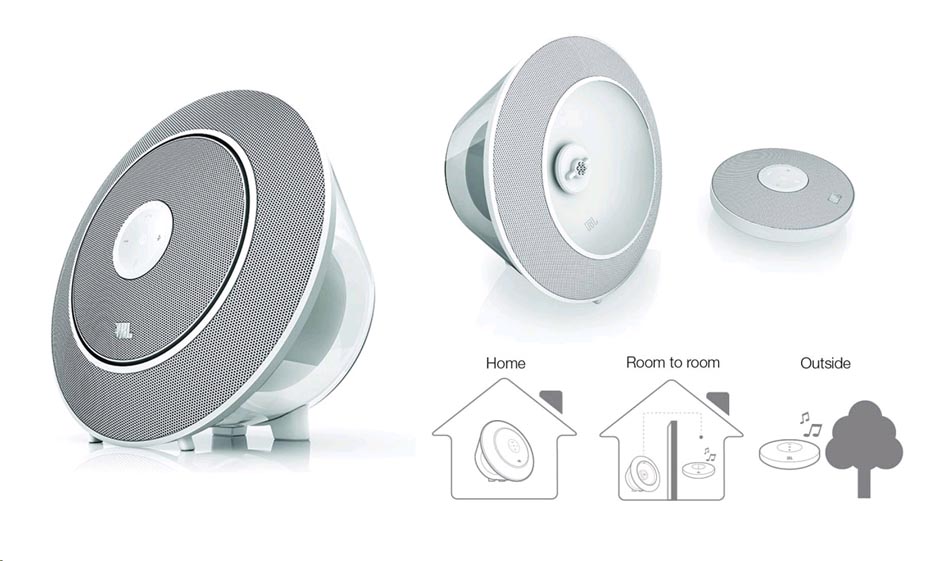 Combination portable speaker and subwoofer docking system
It's a concept others can only imitate, since JBL got here first: introducing a powerful home audio docking system that comes with a wireless speaker fitted into its core that's both portable and easily detachable.

Compete 2.1 system with dual drivers and hard-hitting subwoofer
The performance-tuned drivers deliver full-range acoustics that can be streamed wirelessly. And the 30W built-in subwoofer just speaks for itself, capable of producing powerful, room-filling audio.

Removable Portable Speaker with built in Bluetooth® streaming and 5 hour battery life
Not only does JBL Voyager's portable Bluetooth® speaker let you roam free, it also features a conferencing system boasting SoundClear® echo/noise cancellation technology and advanced microphones. And with a built in rechargeable battery that gives you 5 hours of power, you can talk and listen as long you want.

Equipped with advanced SoundClear® echo/noise cancellation technology
Every call sounds perfect with SoundClear noise and echo cancellation technology. Now calls from home and on the road are clear and easy to understand.